June 11, 2020 by Shawndel Bachmann, Organizer
We did it!
Thanks to our incredible community of supporters, we surpassed the $5,000 goal – we give a shout out to Libro Credit Union for making the final donation to put this campaign over the top at a total of $5,005!
Between April 27th, 2020, when the fundraiser was published, and June 9th, 2020, a total of 36 donors contributed to help to provide meals to front-line and essential workers within our Community!
These funds were able to provide a total of 146 workers at both Anson Place Care Center and the West Haldimand General Hospital (both day and night shift) with hot delivered meals! We are now able to complete part 2 of our fundraising initiative and will be purchasing a total of 169 $15 Meal Gift Certificates from Dinger's Taps and Grill, Princess Submarines and Main 88, helping to support our local restaurants as well. The impact of your support will end up providing a total of 315 meals/meal gift cards to the people in our Community who are working tirelessly to ensure we are taken care of.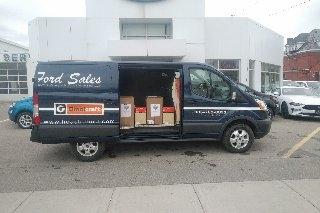 We are incredibly grateful to everyone who joined with us to help to support front-line and essential workers, ensuring that they have the energy they need to be there to help us. There truly is nothing better than seeing our community come together.
Stay tuned for an update with further details on when the meal gift cards are delivered to Foodland, No Frills, Giant Tiger, Cavanagh's IDA, and Pharmasave.
From all of us at Heaslip Ford, thank you for helping us to improve the lives of those braving the front-lines!